https://shuquem.com/ | @karim.shuquem
Artist Statement
Using the historic phenomenon of kunstkammers – also known as wunderkammers, the so-called cabinets of curiosities – in which European collectors would display acquired objects, this installation serves as a vehicle for examining how metaphysical frameworks determine our personal immersion and interaction with our environment and each other. These randomly curated objects, many of non-European origins collected during colonial campaigns, were presented as decontextualized curiosities.
Die Kunstkammer is an ongoing and evolving sculptural installation made up of individually painted, carved, and stacked wine crates interspersed with various found objects. My contention is that a metaphysics that defines the physicality of objects as made up of dead matter alone, enables the type of collection, hierarchical categorization, and exploitation of resources that occurs within an imperialistic framework. Never fixed or finished, the overall project is inspired by the process-based metaphysics of thinkers such as Deleuze, Alfred North Whitehead, and Heraclitus.. A process-oriented world-view leads to a more relational understanding, in which the things and beings of this world are seen as co-constituent and interdependent.
In a manner of poking fun, the black boxes literalize the idea of static building blocks of matter and have the macabre appearance of a memorial to the dead. Die Kunstkammer is in fact not a static sculpture and very much undead.
I emphasize the inherent relationality of a process-based metaphysics by letting the site of the sculpture influence the form. The arrangement changes with every showing; it is a shape-shifting sculpture that is never stuck in the same position. Through my immersion in assembling Die Kunstkammer, I underline an internal animation that comes with the act of stacking. Objects and engravings are hidden from sight while others are revealed. Electronic candles and figurines are interspersed throughout. Light emanates from cracks and gaps within the boxes. As the facilitator of this eternal becoming, I frequently pull prints from the carved boxes to further expand the form, expand the possibilities of transformation within matter, and to document the process itself.
DANIEL BRICKMAN – OCTOBER, NOVEMBER, DECEMBER 2022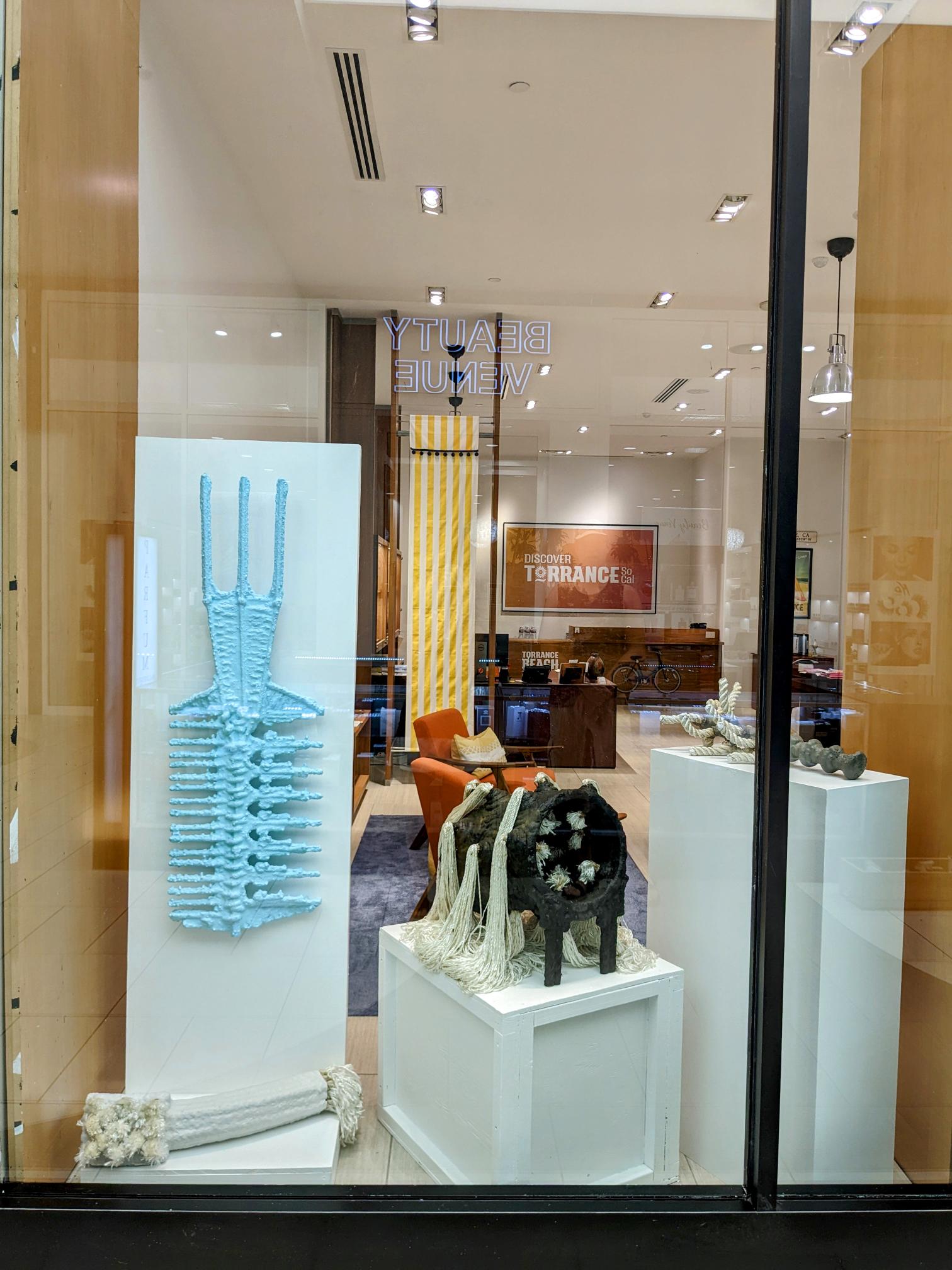 www.danielbrickman.info | @brickmaniel_studio
Artist Statement
I make art that combines sculpture and painting and is composed of rope, hot glue, sawdust, resin, and pigments. I use thick rope as the backbone of the form and build up surfaces around it until a rough and mucky exoskeleton is created. My palette is muted and often monochromatic, giving the pieces a monolithic feel that is both contemporary and ancient.
The finished aesthetic of my work is reductive and primal, and it obscures an intricate process marked by craftsmanship. I begin directly by spatially "sketching" out a form with rope. Often, a single line is my starting point. I layer rope onto itself to give the work its form, then I brush on resin and sawdust until the form is solidified. I am currently exploring new ideas of surface treatment and pigmentation.
My art evokes questions of ritual, process, and growth. Motifs of repetition run throughout the work to suggest the cyclical nature of our daily experiences, such as the establishment of personal routines. The enclosed body of work was informed by my pandemic experience and fixates on germs, bacteria and parasites as well as instruments and tools that we use on our bodies and environments in pursuit of cleanliness.