Mother's Day Specials 2023
Join the Torrance Marriott for a Mother's Day Champagne Brunch!
11am – 3pm

Enjoy a special Mother's Day brunch menu and live music at Andre's Restaurant at the Double Tree!
Date: Sunday, May 14th
Location: 21333 Hawthorne Blvd.
Adults: $79 per person
Children (3-10 years old): $29
Making reservations for Mother's Day Buffet will be a sweet surprise for mom! 💖
Date: Sunday, May 14th
Location: 2808 Sepulveda Blvd Torrance
Adults: $49 per person
Kids: $25 for kids, 9 & under
Reservations: khbakery.com
Large Parties (6+): Call (310) 530-0050
Mother's Day Bakery Hours 5/14:
7 AM – 9 PM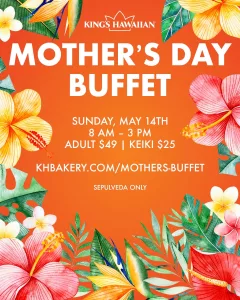 Celebrate Mother's Day at Ise-Shima for a delicious buffet available for brunch and dinner on Sunday, May 14th!
Adults: $95+tax
Children (5-11 yr. old): $40+tax
For reservations and information call (310) 320-6700
Mother's Day Buffet Flyer 2023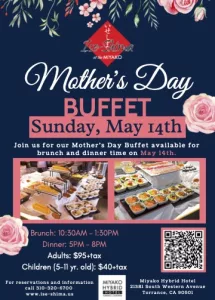 Celebrate Mother's Day with a special brunch menu at Local Kitchen Tavern on Sunday, May 14th!
Make your reservation HERE.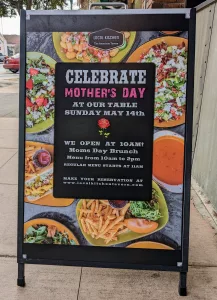 In addition to celebrating American Mother's Day, Madre will also celebrate Mexican Mother's Day. Lot's happening at Madre for Mother's Day! Named for owner Ivan Vasquez's mother, it's fitting the restaurant would celebrate in a big way.
See below for all the different ways to celebrate Mom:
In honor of Mexico's Mother's Day, which falls on May 10, Madre will have live music from 7:00 PM – 10:00 PM
For Mother's Day weekend, Madre will offer a special four-course dinner & live music Saturday, May 13 and Sunday, May 14 for the 21+ crowd
On Sunday, May 14, Madre will have live music from 12-6pm, including Mariachi music and a performance by Rosalie