01/22/2022 - 03/12/2022
Torrance Art Museum
Torrance Art Museum Winter Exhibitions
Main Gallery: Quadrant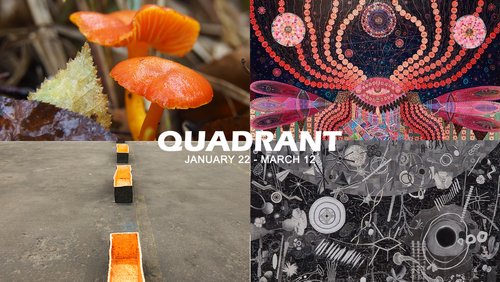 Four emerging artist/curators will each independently curate 1/4 of TAM's Main Gallery space.
Pilosus nuces orbis curated by Carolyn Mason.
Featured artists: Tony Brown, Gioj de Marco, Carolyn Mason, Andre Yi
Nocturnal I curated by Joey Lehman Morris.
Featured artists: Dan Bayles, Linda Connor, John Divola, Eve Luckring, Rodney McMillian, Avan Smith, Martin Sturm, Maritta Tapanainen, Magdelawit M. Tesfaye
Repetition of Difference curated by Khang Bao Nguyen.
Featured artists: Asad Faulwell, Ibuki Kuramochi, Khang Nguyen, Alicia Piller, Brian Randolph, Lorenzo Hurtado Segovia, Linnea Spransy, Kayla Tange
Out of Bounds curated by Lisa Rockford.
Featured artists: Brody Albert, Daniel Boccato, Tanya Brodsky, Scott Froschauer, Ashley Hagen, Nery Gabriel Lemus, Anne Libby, Karen Lofgren
Gallery Two & Dark Room: Lynchland: Genre, Auteurism and a Fish in the Percolator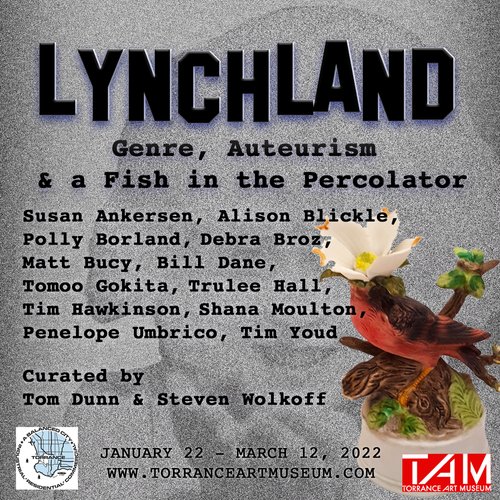 An exploration of a wide array of unheimlich artwork that could be considered fitting within the genre of David Lynch's films. From photography to painting, video to sculpture, visual to olfactory art, Lynchland immerses the audience in the variety of ways the genre manifests in the contemporary art world and investigates how a sense of the uncanny relates to our understanding of something as "Lynchian".
Featured artists: Susan Ankersen, Alison Blickle, Polly Borland, Debra Broz, Matt Bucy, Bill Dane, Tomoo Gokita, Trulee Hall, Tim Hawkinson, Shana Moulton, Penelope Umbrico, Tim Youd. Curated by Tom Dunn and Steven Wolkoff
Main Hallway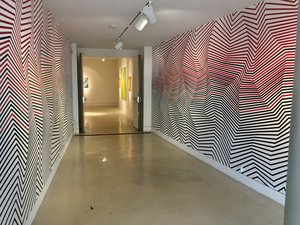 Coalescene
On-going site-specific installation by Darel Carey created for TAM in 2019. Darel Carey is a visual artist focusing on optical perception. He graduated from Otis College of Art and Design with a Bachelor of Fine Arts degree in 2016.His Optical Art (Op Art) includes immersive tape installations, painted murals, and digital art.  The demand for his crowd-pleasing work has been in demand in recent years, with installations at art institutions around the world and featured in major commercial ad campaigns.