Roamin' for Ramen in Torrance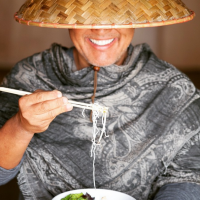 Torrance is home to a rich Asian culture with the restaurants to match. Check out these authentically delectable spots and slurp your way to some of the most delicious ramen and noodle bowls in all the land!
Ramen Restaurant Ko-Ryu
This cozy ramen shop is known for huge flavors and unique dishes like the Garlic Bomb Ramen, K.O. Spicy Ramen (get ready to sweat) and Shacho Ramen (with a secret broth ingredient that adds super flavor). If spice is your thing, take a look at the Legends Challenge wall of fame, depicting those hearty souls brave enough to take the Ko-Ryu spicy ramen challenge.
Matsui
Named for baseball player Hideki Matsui (he played for Japan's Yomiuri Giants and then the New York Yankees), Matsui offers a wide variety of Japanese dishes including sushi, tempura, katsu don, udon, soba and the restaurant's signature Go Go Matsui Bowl and the Tonkotsu Chashu Ramen in rich broth. Enjoy refills of cold roasted barley tea with your meal.
Ramen Yamadaya
Tonkotsu broth ramen is the specialty of Ramen Yamadaya. Made by ramen masters, tonkotsu is a rich and creamy soup made after 20 hours of cooking pork bone broth to extract the greatest amount of flavor possible. Thin noodles are then added along with tasty ramen toppings like chashu, menma and marinated eggs. If you're not a ramen freak, you can enjoy other Japanese dishes on the menu.
What better way to wrap up your ramen adventure than to put your feet up and relax! Torrance offers a wide variety of lodging accommodations, from luxury hotels to cozy inns.  Stay awhile and discover everything that Torrance has waiting for you.