Roll into Torrance On a Bike
Taking in the sunshine and salty air of the Pacific Ocean in Torrance – that's what we call a good time! One of the best things about Torrance is the stellar bike path that starts right at our own beach. There's nothing better than biking along the gorgeous coastline. Here are a few things you'll discover when you roll here.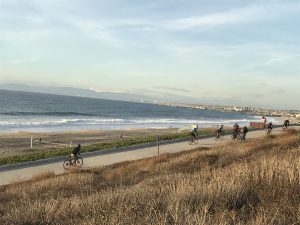 We often take leisurely strolls along Torrance Beach, but we're always up for a wheelie good bike ride! Torrance's 1.5-mile stretch of pristine coastline (and uncrowded sand and surf) is home to the starting point of The Strand. If you've never heard of it, you're in for a real treat.
The Strand is SoCal's 22-mile bike path that hugs the California coastline. The trail takes you all the way up to Malibu and provides beautiful coastal views of the Palos Verdes Peninsula. There are also several stops along the way where you can take a break or enjoy a snack.
Perry's Café and Beach Rentals reopens this Spring and is near the starting point of The Strand. It's a great place to grab a bite to fuel up before a ride. We love their Breakfast Burrito and French Toast!
Another one of our go-to stops is Miramar Park. This cool spot is located just above Torrance Beach and features a dolphin and frog statue. (Instagram worthy photos, trust us!) It's also a great place to relax before or after you hit the road.
You can easily rent a bike at the beach (or bring your own you overachievers) and cruise along the California coastline! We wheelie love riding our bikes in Torrance and so should you! Are you in? Book your trip today!