South Coast Botanic Garden: Jewel of the Palos Verdes Peninsula
The South Coast Botanic Garden, located within the heart of the Palos Verdes Peninsula, is flourishing proof that trash can transform into treasure. The 87-acre site—which features 13 specialty gardens, a host of remarkable plant collections, and several sublime event venues—was once a county dump. The project to convert the landfill into a botanic garden began in 1961 and has continued to evolve ever since. Over time, and with a little topsoil, a lot of love, and one of the best growing climates in the world, South Coast Botanic Garden has become a much-loved local gem that draws visitors from around the world.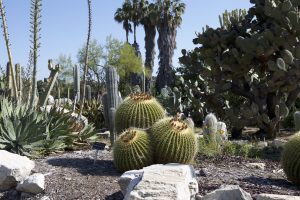 The quiet buzz of a busy garden
Today, the garden is the happy home of more than 2,500 plant species that dish up a never-ending, often-changing display of color throughout the year. Specialty gardens draw you into the distinct beauty of a banyan grove, desert garden, a garden for the senses, a water-wise garden, Mediterranean garden, and gardens devoted to fuchsias, dahlias, and roses. For the families, there's a Children's Garden and Children's Discovery Garden. The Japanese garden and koi pond is worth the trip alone, and it provides one of seven venues for group events.
You can also take in the ocean views, watch the butterflies, and catch a glimpse of more than 300 bird species that come for the year-round variety of fruits and flowers. And while the plants and wildlife are always busy, there's plenty of people-action, too. There are walking trails, docent-led tours, and a constantly changing calendar of events featuring:
Music concerts and performances
Art shows and workshops
Yoga and Tai Chi classes
Children and Family events and workshops
Gardening events and classes
Flower arranging shows and workshops
Luxury car shows
The garden is open every day except Christmas from 9:00 a.m. until 5:00 p.m. Visit the South Coast Botanic Garden website for details about the garden and the information page for directions and prices.