There's Always Room for Dessert in Torrance
The best things in life are sweet, especially in Torrance. SoCal's secret city is home to some of the best desserts around. From baked goods to chocolates, sweet bread to pies, and cookies to cupcakes, Torrance is sure to satisfy your sweet tooth. Check out some of our favorite dessert spots around town.
85°C Bakery Café
Cake is the answer at 85°C Bakery Café. This place is sweet! 85°C is not an ordinary café. Founded with a philosophy that emphasizes five-star quality at affordable prices, 85°C serves more than 50 varieties of pastries freshly baked every hour. (Seriously!) Each cup of coffee is also brewed individually for a distinctive, rich and smooth taste sure to complement their tasty baked goods, which include almond half-moons, cream cheese custard tarts, matcha red bean rolls, tiramisu and much more. Let's eat cake for breakfast!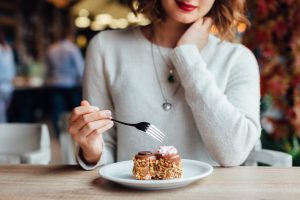 Torrance Bakery  
Some of the freshest cakes and pastries in town are at the one and only Torrance Bakery. This family owned and operated shop is a local favorite and we know why! The bakery has some of the best croissants, cheesecakes, donuts and mouth-watering specialties you can think of. One of our favorites is their Buttermilk Stick – imagine if a donut and churro had a baby. They are AMAZING, trust us!
King's Hawaiian Bakery & Restaurant
Did you know Torrance is home to the famous King's Hawaiian Bakery & Restaurant? Sweet, golden, melt-in-your-mouth bread rolls are probably the first thing that comes to mind when you hear the words Hawaiian King Rolls. However, far more than bread rolls await in Torrance. The famous bakery has cakes with layers of guava, passion and lime; butter sponge cake with tres leches; macadamia nut cream pie, rolled Florentine with chocolate butter cream and dozens of other delicacies. This South Bay favorite is an iconic must-do dessert spot in Torrance!
Life is short, so eat dessert first in Torrance. These are just a few of the area's top sweet spots around town. Come experience a sugar high in SoCal's secret city, book your trip to Torrance today!