Top Five Happy Hour Spots in Torrance
You'll never have to wait to get the party started in SoCal because Torrance knows how to do happy hour. From delicious appetizers to tasty cocktails and craft beer, there's no shortage of delicious bites and drinks in Torrance. We've put together a list of five of the best happy hour spots in SoCal's secret city.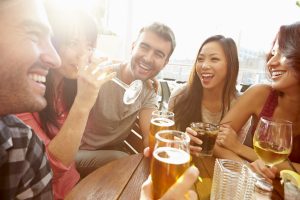 Local Kitchen Tavern is one of the most popular happy hour spots in Torrance and is a great spot for a laid-back evening. Did we mention they have happy hour seven days a week from 3pm-6pm? (Score!) Oh, and if you're not a Brussel sprouts fan, you may just become one after trying them here. Can you say #amazing? We also can't get enough of their Salt & Smoke Mezcal.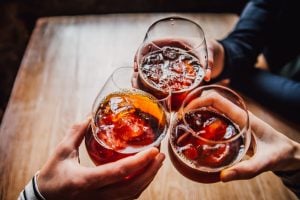 If you love tequila or mezcal's, make your way to Madre! The spacious restaurant is one of Torrance's newer hot spots and serves authentic Oaxacan cuisine. In addition to their 3pm-6pm weekday happy hour, they also have a late night happy hour! We recommend their Smokey Margarita or Madre Margarita. Warning – their complementary chips and salsa are so delicious, it's hard to stop eating them.   
Hey 19 Public House
Update: Unfortunately Hey 19 Public House has permanently shut it doors. But it was fun while it lasted.
The old-school vibe at Hey 19 Public House is so unique – it's become a go-to happy hour spot in Torrance. You'll be taken back to the PeeChees and Farrah Fawcett days while sipping on mouthwatering cocktails and amazing food. If you don't think salads are exciting, you obviously haven't been to Hey 19. Don't forget to try their classic #19 bourbon cocktail. You can enjoy happy hour drinks for $2.00 off and half price eats M-W from 3pm-6pm and Th-F from 2pm-5:30pm. Sold!
Happy hour on the weekends aren't very common, except in Torrance. Restoration Kitchen & Wine offers happy hour seven days a week from 2:30pm-5pm with 25% off beer and wine by the glass. (Seriously!) You'll be drooling over their delicious bites and amazing wines from all over the world. We recommend their flatbread paired with a glass of Bravium Chardonnay. Life is good in Torrance!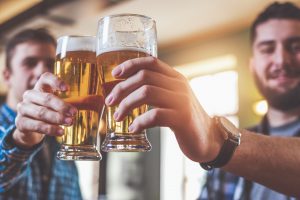 Several of Torrance's 15 hotels also have relaxing restaurants or bars that offer happy hour deals that can't be beat. And if craft beer is your thing, Torrance is home to 12 breweries that offer great deals too. Are you convinced yet? Pack your bags and get ready to drink the night away in Torrance!