Top Torrance Activities for Father's Day
Given everything dear ol' dad has done for you, it's a good thing there is a day dedicated to recognizing what a special man he is. However, most Father's Day gifts leave little to be desired. Yes, he may still have that macaroni art you gifted when you were six and may have honestly loved that bacon cologne when you were 15, but it's time for something he really wants.
This year, skip the tie and treat Dad to a getaway adventure. Whether he's a foodie, a craft beer lover, a city adventurer or a dude who needs some time to relax, there's something for every dad in Torrance.
We've rounded up all the top activities to make this a Father's Day to remember.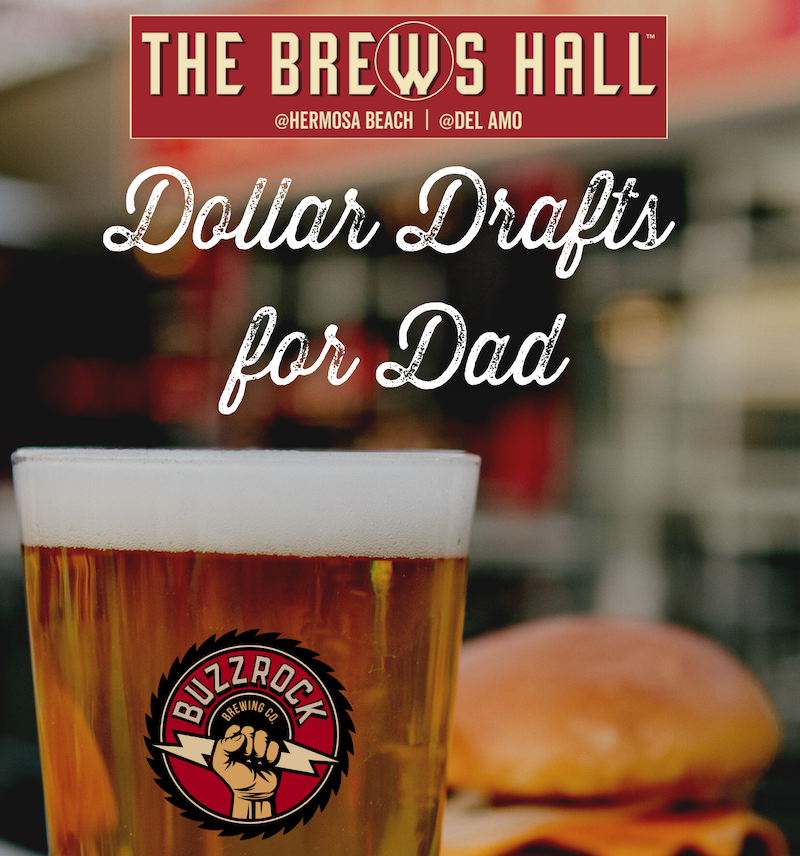 FOR THE DAD WHO LOVES A DEAL
One thing dads universally love is a good deal — and Torrance has you covered with these Father's Day Specials.
21 Square Kitchen at Torrance Marriott has a patio BBQ and beer specials.
Andres's Restaurant at Doubletree has live music, a brunch buffet and beer specials.
The Brews Hall has dollar drafts for dads when you order any Herd Burger. One $1 draft per dad.
Local Kitchen has its full menu, indoor and outdoor seating and a happy hour from 3:00 PM to 6:00 PM in the bar.
Scholb Premium Ales is the perfect place to enjoy a cornhole tournament and great brews on Father's Day.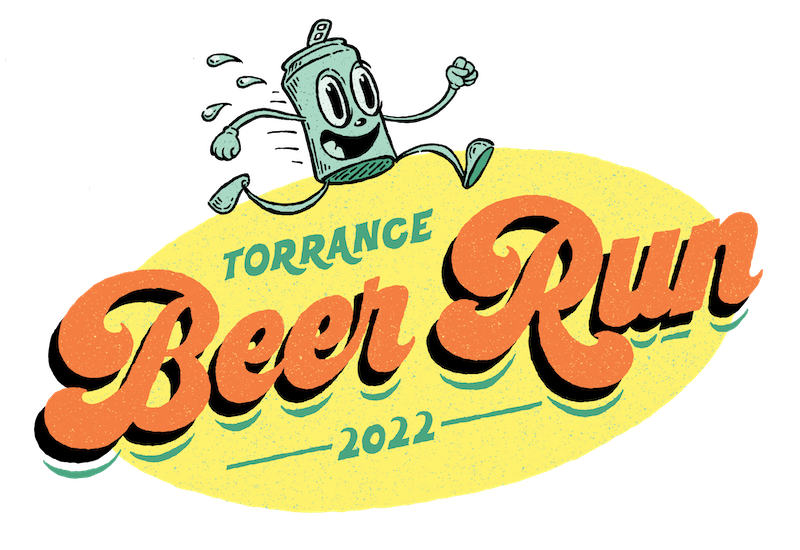 FOR THE DAD WHO IS ON THE MOVE
Have you heard the dad joke about beer and exercise? Well, it's not a joke. From beer runs to watching sports or exploring the beach, there are multiple activities in Torrance that are crafted perfectly for dads.
The Torrance Beer Run, in conjunction with LA Beer Week, start the day before Father's Day and keep the celebration going from June 18th through June 26. The Beer Run is a self-paced tour of 12 breweries around the City of Torrance with no actual running required. It's a fun way to explore all the refreshing craft breweries Torrance has to offer. With a dozen options, you may want to start planning with our handy map.
Starting on June 18, you can pick up your passport at any of the participating breweries. Collect a stamp from each stop and turn in your completed passport for a Limited Edition 2022 Torrance Beer Run T-shirt.
Take him out to ballgame or gift him tickets to a future football, basketball, baseball, soccer or hockey game. With Torrance's great weather, there aren't many sports that are sidelined in Southern California. Sports fans will find a lot to feed their passions here, which makes Torrance a great central hub to call home when watching games.
Torrance Beach is a 1.5-mile stretch of pristine coastline and the starting point for The Strand, a 22-mile coastal bike path that provides the perfect place for a sunny, active getaway with dad. Not to mention, the surfing is world-famous.
FOR THE DAD WHO IS ALWAYS THINKING ABOUT THE NEXT MEAL
The Depot offers everything from elegant cuisine to German, Austrian, contemporary Scandinavian, pan-Asian,Mexican to American cooking from the East Coast to the Southwest and California. It's a place even the pickiest dad can find a new favorite. Since 1991, Chef Michael Shafer's Depot (housed in a historic train station for LA's Red Car Line and built in 1912) has served Torrance with inventive cuisine that's as adventurous and memorable as Chef Shafer himself.
Gen Korean BBQ House offers a menu packed with freshly prepared meats, seafood and vegetables along with refreshing and traditional side dishes offering a wide variety of complex flavors.
Keegan's Sports Lounge & Grill is just the place many dads dream of. With an outside pool table, lounge area, outdoor fire pits and 35 TVs throughout the bar, Keegan's is the perfect place to watch a game while you play a game.
Red Car Brewery, named after California's famous Red Car Line, offers a laid-back atmosphere with delicious casual fare (pizzas, sandwiches, burgers, pasta and appetizers) that's the perfect accompaniment to a dad-worthy selection of beers.
Restoration Kitchen & Wine offers a friendly, service-oriented staff that assists with the nuances of pairing their favorite wine or beer with a selection of small plate dishes, cheeses, charcuteries and desserts.
Yorkshire Square Brewery specializes in modern British cuisine and traditional dishes with a twist. They pride themselves in making everything from their pretzels to their tartar sauce from scratch. Pair a delicious item with a proper British beer for a complete Father's Day crowd-pleaser.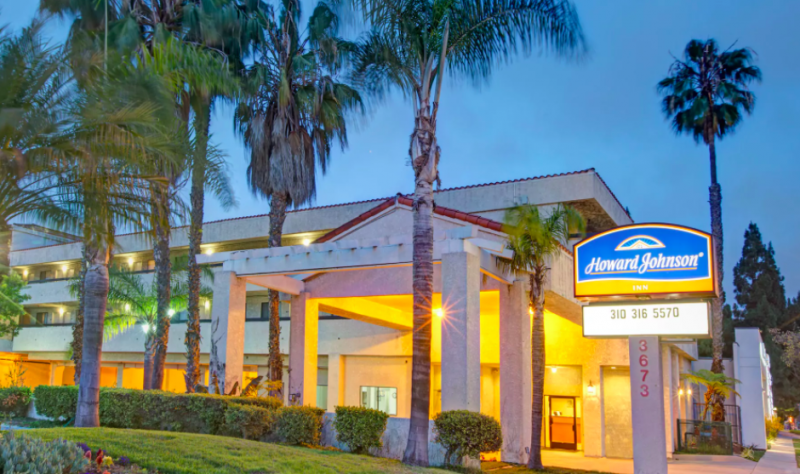 FOR THE DAD WHO DESERVES A RESTFUL DAY
There may be no better way to enjoy Father's Day than a relaxing getaway that includes a restful overnight stay. Situated in the beautiful South Bay of LA, Torrance is home to 15 relaxing hotels that range from budget-friendly rooms to resort-style suites. Here are a few that might give you perfect son or daughter status, if there is such a thing.
Ramada by Wyndham Torrance offers golf-loving dads a relaxing stay (and a reduced rate for California residents) located near beautiful beaches and golf courses.
The Howard Johnson by Wyndham Torrance offers affordable accommodations including WiFi and free breakfasts.
Torrance Inn & Suites on the Pacific Coast Highway is just minutes from sand and surf, although their outdoor pool is a great way to cool off, too. Rooms at this pet-friendly hotel are equipped with conveniences like microwaves and refrigerators, as well as free Wi-Fi access and a complimentary breakfast.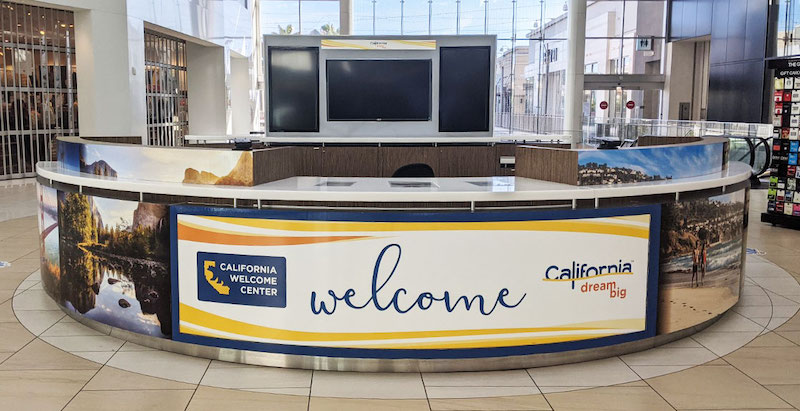 PLAN FOR A GREAT TIME TOGETHER
We invite you to come and learn about the unique experiences of Torrance and California at the California Welcome Center Torrance. Discover insider tips, plan a trip through our interactive kiosks, shop locally-sourced merchandise, get custom activity planning and more.
The California Welcome Center is located in the Del Amo Fashion Center on the main entrance, level 1. Visit us to plan the perfect Father's Day. No ties required.