Torrance on Camera in Its Best Supporting Role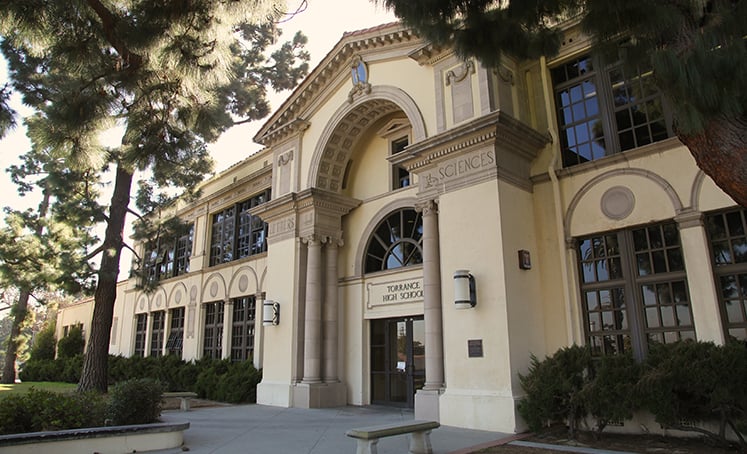 Even if you've never visited Torrance, you know the city from its hundreds of on-screen appearances. From the beach to residential areas, Torrance offers a variety of looks and settings which is a big appeal to film and TV location scouts.
Locations, locations, locations
Take your pick from family neighborhoods, an uncrowded SoCal beach, marshlands, charming historical buildings, famous high schools, industrial parks, a classic airport, sports fields, an often-filmed high-end shopping mall, and plenty of photogenic streets. These Torrance locations—and many others—have played host to the likes of Elvis Presley, Al Pacino, Julianne Moore, and Robin Williams, as well as a few aliens, zombies, and werewolves. Oh, and a surfing Batman, too.
To date, Torrance has provided the just-right backdrop for more than 200 films and television series episodes.
Movies (not all of them!)
100 Yards (2017)
A Futile & Stupid Gesture (2017)
All Stars (2014)
American Beauty (1999)
Bad Santa (2003)
Bewitched (2005)
Boogie Nights (1997)
Bruce Almighty (2003)
Cursed (2005)
Days of Heaven (1978)
Gone in 60 Seconds (1974)
Horrible Bosses (2010)
I Dream of Genie (2013)
Interstellar (2014)
Lifeguard (1976)
Not Another Teen Movie (2001)
Pineapple Express (2008)
Ransom (1996)
Scarface (1983)
She's All That (1999)
Swap Meet (1979)
Teenage Mutant Ninja Turtles (2014)
The Adventures of Buckaroo Banzai (1984)
The Guardian (2005)
The Hot Chick (2002)
The Longest Yard (2005)
The Student Nurses (1970)
The Wild Life (1984)
Valley Girl (1983)
Wasting Away (aka Aaah! Zombies!!) (2007)
White Heat (1949)
Why Him? (2016)
Television Series:
American Crime Story (2016)
Buffy the Vampire Slayer (1997-2003)
Beverly Hills, 90210 (1990-2000)
90210 (2008-2013)
Batman – Surf's Up, Joker's Under (1967)
The O.C. (2003-2007)
Emergency! (1972-1979)
Zeke and Luther
Colombo (1971-2003)
CHiPs (1977–1983)
CSI: Miami (2002-2012)
The Craigslist Killer
The Secret Life of the American Teenager