Touchdown! Where to Watch the L.A. Chargers from Torrance
Football is season is back! (Can we get a hallelujah?!) Okay fine, it's only preseason, but we can't wait to watch the Los Angeles Chargers play in their new (temporary) home stadium at StubHub Center, located near Torrance.
Do you bleed navy, gold and powder blue? Well you're in luck, Torrance is only 20 minutes from StubHub Center, so you can cheer on the Chargers in person (instead of yelling at the TV). I think we can all agree, nothing beats watching a football game live. But, if you can't make it to the complex, don't worry, there are plenty of cool places around Torrance you can grab a cold one and root for the Chargers. Here are a few places you can watch the Chargers or their opponents while visiting Torrance.
Head on down to the Crest Sports Bar and Grill and be surrounded by TV's galore. The bar has 50 (yes, you read that right) big screen TV's! No matter where you turn, you're sure to see some gridiron action!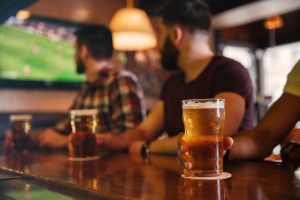 Local favorite Keegan's Sports Lounge & Grill is all about comfort (and comfort food).  Watch the Chargers on one of their 35 flat screen TV's and enjoy their daily happy hour specials. You can even watch the game on their patio outside and warm up on chilly nights next to their large fire pits.
Make your experience a memorable one at Torrance Tavern. This casual and friendly neighborhood bar offers a wide range of locally crafted beers, along with domestic and international brews. They also have some great game-day eats like an Onion Ring Tower and Parmesan Fries. (They are delicious, trust us!)
How about watching the game with a little bit of history? Southland Bar has been around since the 1960's in historic Torrance. Enjoy a craft cocktail (or two) in their low-key ambiance. It's the perfect spot to kickback and cheer on your team.
Regular season is right around the corner (September 7th). So, what are you waiting for, book your trip today and get ready to watch some pigskin showdown from Torrance. Let's go Chargers!