Why I Film in Torrance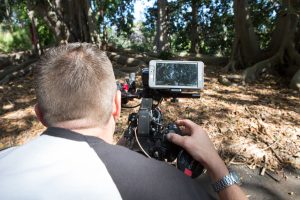 Before I realized it, I was in Torrance. An easy flight from Sacramento, we touched down in LAX and took a short drive to Torrance. Once we arrived, I quickly realized we were no longer in L.A. and instead transformed into a laid-back, beach city. All the traffic, smog and rushed energy that is typical of Southern California was gone; things just didn't feel so rushed.
From a filmmaking standpoint, Torrance had much to offer us. The city had a great beach, a beautiful downtown area and some really pretty neighborhoods. We had no issues when it came to filming in Torrance. No hassles, it wasn't over crowded and we even had some locals volunteer to be in our scenes. There is nothing better than authentic locals in scenes! Even though we had received permits weeks before, I was surely expecting to receive numerous questions from authority figures the second we launched the drone, but they never came. It was also one of the easiest processes to receive and apply for the permit that I have ever experienced.
The selection of food in Torrance was abundant. The crew and I ate everything from sushi to pizza and I don't think we had one bad meal. We were blown away by some of the restaurants in the Del Amo Fashion Center. One place that particularly sticks out in my mind was Din Tai Fung, a dumpling restaurant at the Del Amo Fashion Center. It was certainly my favorite meal of the trip!
The weather was probably the only reminder that I was in the L.A. area. It was sunny and warm, occasionally we had some cloud cover, but that's to be expected when you're so close to the coast. We were hoping to film some scenes by the beach and the weather delivered us a beautiful sunset right when we needed it the most.
It would be my pleasure to film on location in Torrance again, it was an over-all positive experience.
– Ian Webb
Ian Webb is the owner of iWebb Productions and Thin Air Professional Aerial Imagery based in Northern California.