Discover Torrance Murals Worthy of a Close-Up
You don't have to wait for galleries to re-open to see impressive art! Torrance's mural scene makes for a fun afternoon filled with creative inspiration. Discover these colorful pieces while enjoying the sunshine on your next Torrance getaway.
Traci C. Adams – "Sanctuary in the South Bay"
2448 Sepulveda Blvd, Bluestem Hotel
This 75-foot long mural, designed by local artist Traci C. Adams, centers around the local landscape and wildlife at Torrance Beach and the Madrona Marsh Preserve, among other top Torrance attractions including the Western Museum of Flight, Del Amo Fashion Center and Torrance Bakery. Within the bottom edges of the mural are 142 illustrations depicting the iconic history of the city, created in Adams' signature "tattoo" style. The illustrations are meant to be hidden as part of the large mural, and we've heard it can take up to a week to find them all! The mural also features six hidden silhouettes that signify the South Bay city and beyond including the California grizzly bear, Highway 1 and more. Can you spot them all?
Alex Poli and Jaime Reyes – "Untitled Mural"
1403 Sartori Ave., Wells Fargo Bank Parking Lot – Across from Keegan's 
Riders reign in this large mural that spans the entire parking lot, painted in 1969. The mural is untitled, so you're welcome to have fun creating your own name.
Kent Twitchell – "Six Los Angeles Artists"
1220 Engracia Ave.
Artist Kent Twitchell is most famous for his murals of celebrity portraits around Los Angeles. This mural is intended to be an homage to artists, who are his friends from Otis College of Art & Design, but also a pun on the employability of artists.
Mike Trujillo – "Kobe Bryant"
1975 Torrance Blvd., Burger City Grill
Burger City Grill owner, Efthemios Tsiboukas, known as "EAT," is a HUGE Kobe Bryant fan, and took advantage of the long wall on the back side of his building to paint the progression of Kobe's career – even acknowledging the coveted Oscar he won for his animated short, "Dear Basketball." EAT owns two other Burger City Grills – each featuring a Kobe mural. However, with this new location in Torrance – being home to where EAT was born and raised – he wanted it to be extra special.
Lorenzo Rams – "Look Your Best"
2223 Torrance Blvd., InjectAbility Clinic
A satire on the over-emphasized importance of beauty or a friendly reminder to put your best self forward? We'll let you decide when you take in this larger-than-life mural.
David Flores – "Louis Zamperini"
 21250 Hawthorne Blvd., The Torrance Building
David Flores uses his graphic style to reinterpret popular images familiar to his audience. This large-scale piece depicts Torrance hometown hero, Louis Zamperini – a legend, an Olympic distance runner and a World War II veteran.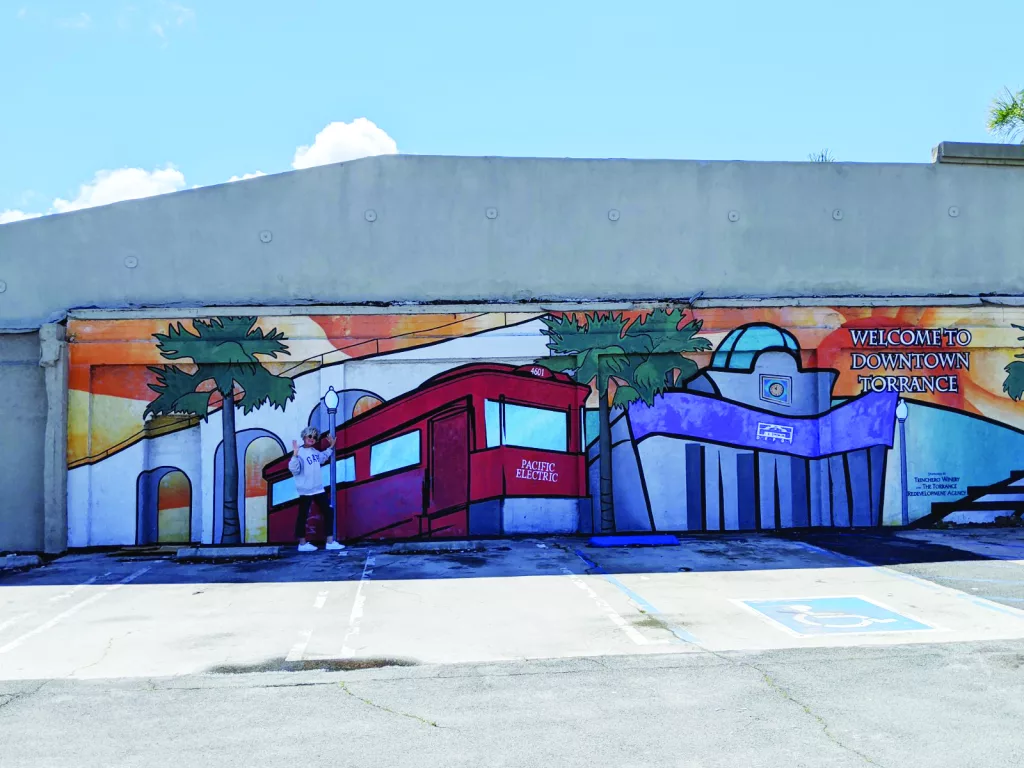 Artist Unknown – "Red Car Mural"
1316 Cabrillo Ave., Torrance Theatre Company – Facing the Depot Restaurant 
Boldly colorful with strong red and orange hues, this mural represents Southern California's mass transit of the day – Red Cars. Workers and travelers alike hopped on these big Red Cars bound for Torrance! In fact, when establishing the town, Jared Sidney Torrance first arranged to have a Red Car line come to Torrance.
Jan van der Ploeg – "Untitled 2021"
3320 Civic Center Dr., On the Façade of TAM 
Known for his impactful graphic style, this Dutch artist gave the Torrance Art Museum a brand-new exterior look. His expressive, yet simple art can be seen in public spaces around the world and we're thrilled that list includes Torrance.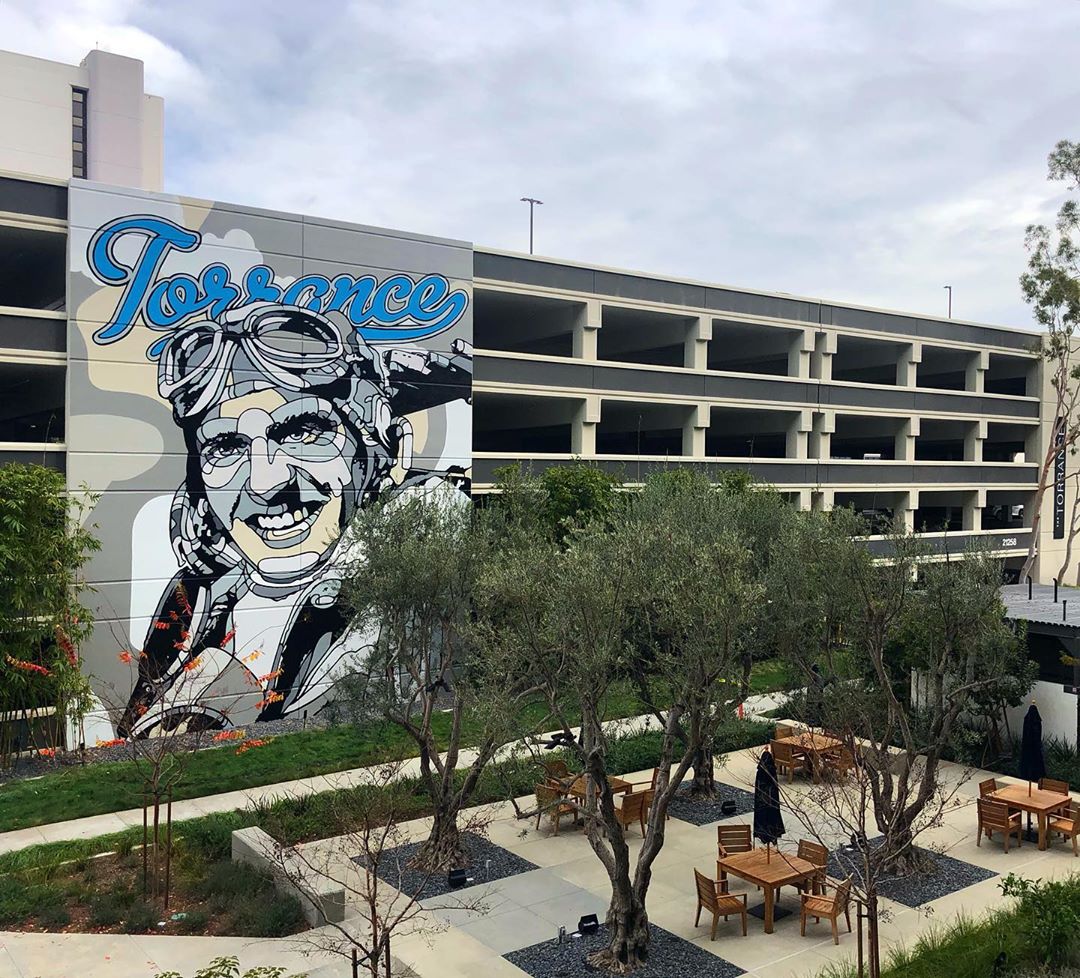 Start planning your trip to see all the Insta-worthy spots Torrance has to offer. From arts and culture to dining and shopping, there's so much to discover in this melting pot of diverse experiences! Book your stay today.