Discover Torrance Murals Worthy of a Close-Up
You don't have to wait for galleries to re-open to see impressive art! Torrance's mural scene makes for a fun afternoon filled with creative inspiration. Discover these colorful pieces while enjoying the sunshine on your next Torrance getaway.
Traci C. Adams – "Sanctuary in the South Bay"
2448 Sepulveda Blvd, Bluestem Hotel
This 75-foot long mural, designed by local artist Traci C. Adams, centers around the local landscape and wildlife at Torrance Beach and the Madrona Marsh Preserve, among other top Torrance attractions including the Western Museum of Flight, Del Amo Fashion Center and Torrance Bakery. Within the bottom edges of the mural are 142 illustrations depicting the iconic history of the city, created in Adams' signature "tattoo" style. The illustrations are meant to be hidden as part of the large mural, and we've heard it can take up to a week to find them all! The mural also features six hidden silhouettes that signify the South Bay city and beyond including the California grizzly bear, Highway 1 and more. Can you spot them all?
Rask Opticon – "Mamba Mentality"
22505 Crenshaw Blvd, 3Ten Liquor
After the tragic death of Kobe Bryant this year, many mural tributes were created in Southern California to honor the man who played his entire 20-season career with the Los Angeles Lakers. With the Staples Center nearby, it's easy to understand why Torrance is home to one of them. Titled "Mamba Mentality," this 15 by 20-foot mural was a collaboration between tattoo artist Rask Opticon, and the owner of the store where it resides – 3Ten Liquor. The large purple memorial depicts the famous image of Bryant when he celebrated his fifth title after winning the 2010 NBA Championship, along with an image of Gianna Bryant and the names of the other seven victims.
View this post on Instagram
Alex Poli and Jaime Reyes – "Untitled Mural"
1403 Sartori Ave., Wells Fargo Bank Parking Lot
Painted in 1996, this mural features a multitude of riders as far as the eye can see! One could assume that artists Poli and Reyes might have had a love for cycling! Either way, it's impressive, stretching out along the entire wall of the parking lot.
Unknown Artist – "American Gothic Reimagined"
22409 Hawthorne Blvd, Silvio's Photoworks
One of the most famous pieces of art in history gets a very current events-inspired update at Silvio's Photoworks. The business recreated Grant Wood's Great Depression-era classic on their storefront window back in April, giving it a few modern twists. Instead of standing shoulder to shoulder, the father and his daughter are six feet apart and wearing masks. The subtle nod to the store itself with the daughter wearing a camera is a unique touch.
David Flores – "Louis Zamperini"
21250 Hawthorne Blvd., The Torrance Building
Artist, muralist and product designer David Flores has many murals throughout the Los Angeles area. The impact of his graphic style comes in his ability to allow the viewer to reinterpret a popular image they may already have associations with. This large-scale piece depicts Torrance hometown hero, Louis Zamperini – a legend, an Olympic distance runner and a World War II veteran.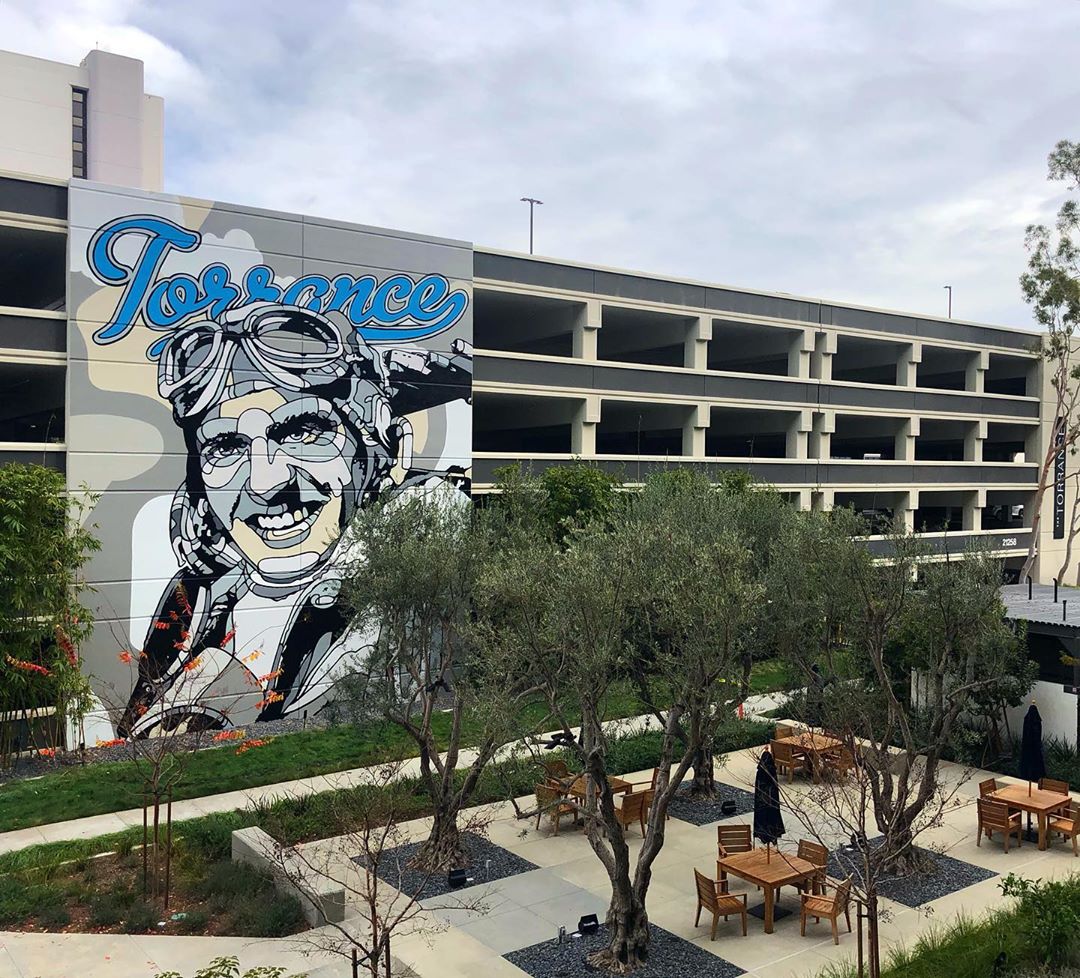 Start planning your trip to see all the Insta-worthy spots Torrance has to offer. From arts and culture to dining and shopping, there's so much to discover in this melting pot of diverse experiences! Book your stay today.