Host Your Party or Conference Without the Cleanup
Planning a corporate conference, team meeting or offsite strategy session can be a challenge. The biggest question is always WHERE, especially when there are so many hotels to search through for the right setting. Let us take a little bit of the guesswork out for, look no further than Torrance, just south of L.A.
Torrance is full of great hotels to host an event. To make things easy, here are a couple excellent options to impress the boss or inspire the team.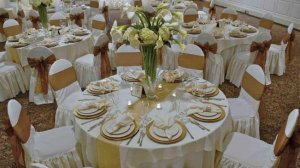 Image source: http://doubletree3.hilton.com/
Double Tree by Hilton Torrance/South Bay
Space Snapshot:
The Double Tree Hilton in Torrance has an incredible 16,000 square feet of flexible space perfect for a small meeting or a large banquet. Need options? They have 11 rooms designed to meet any shape or size of group. There are small, intimate rooms at just over 300-square-feet, all the way up to a 5,292-square-foot dance hall (that holds 500!). The Penthouse Ballroom is on the top level and boasts panoramic views of Torrance and a 200-person capacity.
Services, Extras & A/V:
Call ahead to put the Double Tree staff to work helping you plan out your business event. Let their professional event planners figure out the details to make your gathering perfect. If food is on the agenda, select your meals through the Double Tree's catering team who will prepare, cook and serve premiere appetizers, entrees and desserts. The conference spaces also have dedicated wireless internet, projector capability and a professional sound system.
Double Tree Hilton Hotel is located at 21333 Hawthorne Blvd., Torrance, CA 90503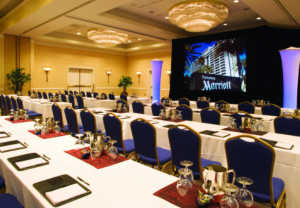 Image source: marriott.com/hotels/hotel-photos/laxtr-torrance-marriott-redondo-beach/
Marriot Torrance Redondo Beach
Space Snapshot:
This hotel features indoor and outdoor meeting spaces with more than 49,500 square feet of flexible event space. For elaborate corporate banquets or conferences, check out the circular Elements Ballroom with modular seating options to fit every size and type of gathering. The Marriot also offers the more formal Boardroom or the intimate Hideaway Coffee Break Meeting Room. The Grand Ballroom can be setup with regular or theater seating and features panoramic views. For a more natural environment, the Marriot has plenty of outdoor space.
Services, Extras & A/V:
The Marriot Redondo Beach has all the technology support you need, from LCD projectors and video cameras to videoconferencing and a PA system. Want help? Work with their talented event planners to prep your event, then tap into their audio/visual technician and professional photographer to cover your bases on the big day. The Marriot also features full-service catering, portable and installed podiums and both wired and wireless high-speed internet.
Marriot Torrance Redondo Beach is located at 3635 Fashion Way, Torrance, CA 90503
Image source: miyakohybridhotel.com


Miyako Hybrid Hotel Torrance
Space Snapshot:
For a Japanese-style option, look no further than the Miyako Hybrid Hotel. The Miyako boasts a whopping four meeting rooms with options to make them the shape and size you need for your next conference or gathering. Can you say domo arigato? The rooms range from the small, intimate Yoshino room to the modest Asuka room or the banquet-sized Nara and Kyoto rooms, which can be combined or kept separate depending on your needs. The larger Nara and Kyoto rooms offer 12-foot ceilings, floor-to-ceiling glass walls for vibrant natural light and, when combined, create a large ballroom.
Services, Extras & A/V:
Miyako has full-service catering and event planners to ensure your meeting goes off without a hitch. And when it comes to the sights and sounds of your meeting, Miyako has A/V covered. On site, they have projectors and LCD peripheral monitors, video cameras and teleconferencing, all with high-speed wifi access.
Miyako Hybrid Hotel is located at 21381 South Western Avenue, Torrance, California 90501
For more options, discover all that Torrance hotels have to offer.