Influencers Discover Torrance's Hot Spots
Thanks to the finest beach in SoCal's South Bay, an exploding craft beer scene, fantastic food, one of the largest shopping malls in the U.S. and lovely accommodations, many social media influencers named Torrance as the newest LA County hot spot. Here are some highlights we've recently clicked "like" on:
Stay Our Way
From luxury hotels to family-operated inns and motels, Torrance offers a variety of welcoming lodging options to meet any traveler's taste or budget.
Loreen Hwang enjoyed staying at Torrance's newest boutique Bluestem Hotel: "It has a coastal vibe with cute fire pits on the patio. A living wall in the lobby and a really great staff. The service at the hotel was so great. <…> I will definitely go back."
Lindsey Messenger, the creator of Seven Day Weekender travel blog, loved the Instagrammable pool, swinging chairs, ping pong, cabana seating and a giant chess board at the Marriott Torrance Redondo Beach.
View this post on Instagram
Jennifer Wright loved the proximity to attractions when she stayed at the Courtyard Marriott Torrance/Palos Verdes. "The lobby area was modern and welcoming and included a nice bar and dining area that served Starbucks coffee in the morning and cocktails in the evening. <…> The hotel was centrally located just a few minutes from the beach, the mall and Torrance's best restaurants."
Best travel deals finders Next Departure loved the abundant breakfast options at Best Western Plus Avita Suites. "The breakfast was included and was my favorite part! <…> Cafe Avita had every single thing a person could ever need in a breakfast. Make-your-own breakfast sandwich station with rounded out eggs and sausages, also other stations for make-your-own waffle, pancake, granola, bagels. They had options for sausages; pork, chicken or turkey. Any style of coffee drink you could want. I was very impressed." 
Foodie expert Deb Nguyen of Always DTE said Miyako Hybrid Hotel made her feel like she was in Japan again. "They have proper Japanese bidets and use Aveda products. The bed was so comfortable that I couldn't help but take a few cat naps throughout the day."
Skyler Lee stayed at the Redac Gateway Hotel and appreciated the living room space where you can spend quality time inside with your travel buddies. She also loved the quiet atmosphere of her accommodations. "I'm always finding time to practice yoga when I am traveling. This room definitely had enough space for me to practice quietly!" 
Katie Novack highlighted how Residence Inn Los Angeles Torrance/Redondo Beach was a comfortable choice. "I stayed there for two nights and the rooms were large and had plenty of room for more than 1 guest. The hotel also comes with a full-complimentary breakfast every morning from 7-9 am and it is centrally located to everywhere in Torrance. A great place to accommodate people or families for fun or business!"
Find Foodie Paradise
Skyler Lee, creator of dining blog Foodie On Fleek said Torrance is "one of the best places to find Japanese dining." She enjoyed exploring Mitsuwa Marketplace with its humongous selection of unique snacks and some of the best ramen around, Miyabi Uni for all things uni, sushi at Wadatsumi and more.
Fashion blogger Katie Novack of The Wonder List highly recommended The Depot: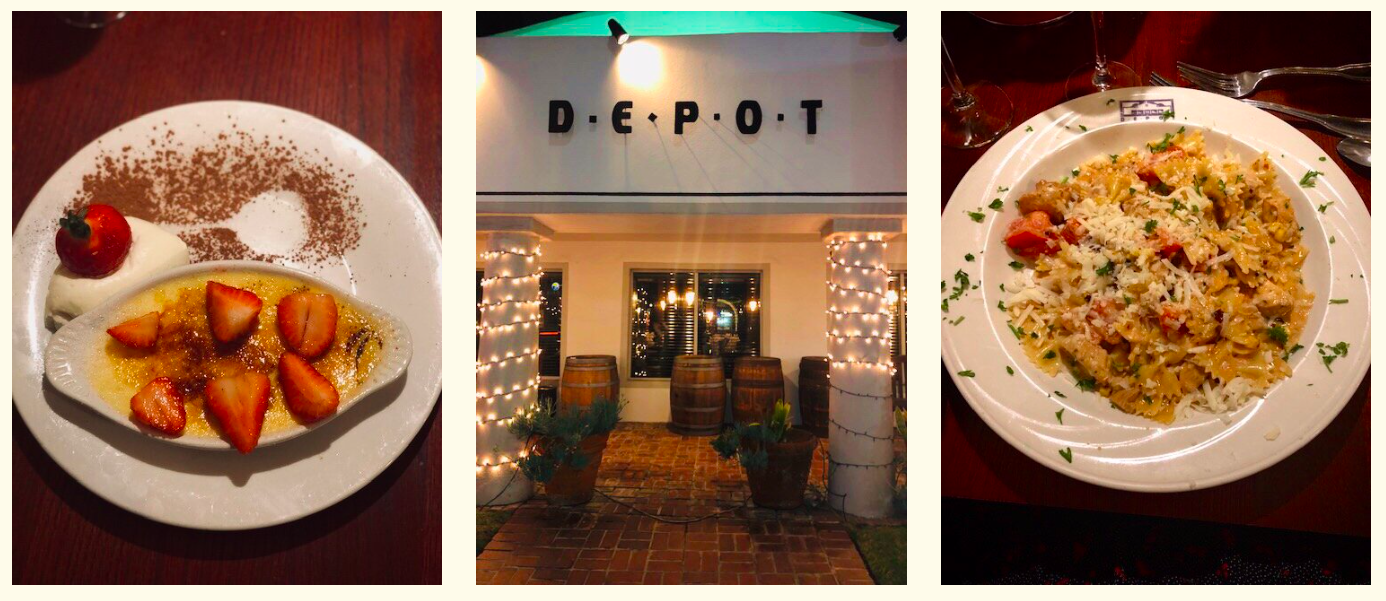 "This place is gorgeous inside (it's located in an old historic building) and the menu is extensive with a variety of options for every eater, even including some vegan options for those non-meat eaters :). I ordered the Bowtie Pasta with House-Smoked Chicken, Roasted Corn, and Chili Cream. Decadence! For dessert, I devoured the Creme Brulee with strawberries which was divine and, yes, I almost licked the plate!"
Karilyn Owen, the creator of travel blog No Back Home, loved the family-friendly aspect of King's Hawaiian Bakery and Restaurant. "Kids will love the fun vibe with the big cylinder fish tank in the dining area. Make sure to try the house favorite Hawaiian bread French toast."
The Great Outdoors
With an average temperature of 72 degrees year-round, 30 parks, 1.5 miles of beach, the last remaining vernal marshland and the start to the 22 miles of oceanside pathways, it's no surprise Torrance outdoor activities are all over social media.
Family blogger Kristin Lesney of Our Ordinary Life said "you have to visit Los Arboles Park better known as Rocket Ship Park. This 1960s playground has the most incredible views of the Los Angeles basin."
For travel writer Christina Conte of Christina's Cucina it was hard to believe how many parks there were around Torrance, including something like Madrona Marsh Preserve. "Truly a sight to behold, especially with so many spring flowers in bloom; it was an absolute joy."
Jennifer Wright, the creator of Stylishly Social family blog, loved Torrance Beach. "Parking there was easy and affordable, and the crowds were minimal, surprising since it was Memorial Day weekend! The beach was clean, views were gorgeous, and there were ample restrooms that were modern and well kept. I think Torrance Beach just might be our new go-to beach!"
Are you in to create your own memories in Torrance? Plan your trip today!