New Year, New Getaways!
The holidays are over and we're well on our way to a fresh new year, so who's ready for a relaxing vacay? We are! Torrance is a great option if you're looking for an affordable LA getaway without the LA price tag or crowds. It doesn't matter if you're traveling with your sweetie, family or a group of friends, we've got everything you need right here. Check out our recommendations below to start planning your getaway today: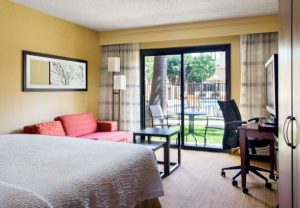 Rally the Family
If you're looking for an easy place to stay with the whole family that fits within your budget, look no further than the Courtyard Torrance Los Angeles. The hotel's modern lobby experience includes The Bistro – Eat. Drink. Connect.® serving healthy food and beverages in the mornings, including Starbucks® coffee and evening dinner service. Visitors can enjoy luxurious bedding in newly renovated guest rooms with balconies, 37″ LCD HDTV's, mini-refrigerators and complimentary high-speed internet. The hotel also features an outdoor pool for downtime and and complimentary on-site parking. The property is conveniently located just blocks from Del Amo Fashion Center, nearby Torrance Beach and Madrona Marsh Preserve for family outings.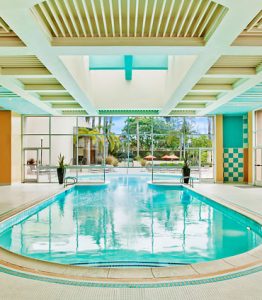 Image source: http://bit.ly/1TZwOHX
Friend's Weekend Away
For a fun getaway with friends, the Marriott Torrance Redondo Beach is only minutes from Pacific Coast Highway and miles of pristine beaches, the Redondo Beach Pier, StubHub Center and Del Amo Fashion Center. Savor the culinary bites of Southern California hotel dining experiences in Garden Court Restaurant and the signature Rain Wine Bar & Lounge featuring more than 40 specialty wines by the glass. The outdoor space features fire pits for gathering with friends over a glass before you turn in for the night, and there's even an indoor/outdoor pool!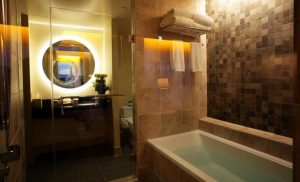 Unexpected Romance
The Miyako Hybrid Hotel in Torrance/South Bay California has captured and successfully blended the traditional elegance of Japan with the luxuries of modern hospitality, offering 4-star service and amenities at affordable rates. This is one spot you may never think to bring your sweetie, but you will be delightfully surprised when you arrive! Relax in the room's soaking tub, take a dip in the pool or have a romantic dinner at the property's upscale Japanese restaurant, Ise-Shima.
Next time you're daydreaming of a weekend away, use our online tools and book yourself a trip to Torrance! These properties are among many affordable options in town, and we guarantee you'll find a place perfect for what you're looking for.