Ready, Set, Torrance! Experience a Cinematic Getaway
If you've been missing movie theater experiences this year, or just need some big screen excitement, a trip to Torrance and its many movie and TV sites makes for a picture-perfect getaway.
This versatile city has provided a scenic backdrop for more than 200 films and television episodes. From the scene of the crime in Scarface to the high school where Brenda kissed Dylan, Torrance is the perfect backdrop to plan an award-winning good time. In recent years, it's also the setting for some out-of-this world entertainment including Space Force, Space Jam 2 and Storage Wars.
We've rounded up some favorite stops for your itinerary as well as a list of TV shows and movies that were recently filmed in Torrance so you can customize your own trip.
Start your first day of motion picture memories with a pick-up breakfast treat from local eatery Eat at Rudy's. You can choose the big screen-themed John Wayne breakfast or the Rambo, which is French toast with two eggs and sides. Next, take your pick from family neighborhoods, an uncrowded SoCal beach, marshlands, charming historical buildings, famous high schools, industrial parks, a classic airport, sports fields, an often-filmed high-end shopping mall and plenty of photogenic streets. These Torrance locations—and many others—have played host to the likes of Elvis Presley, Al Pacino, Robin Williams — and Lebron James. If you'd like to visit where LeBron's shoe size 15 feet once walked, head over to the former Toyota Campus where key scenes for Space Jam 2 were filmed.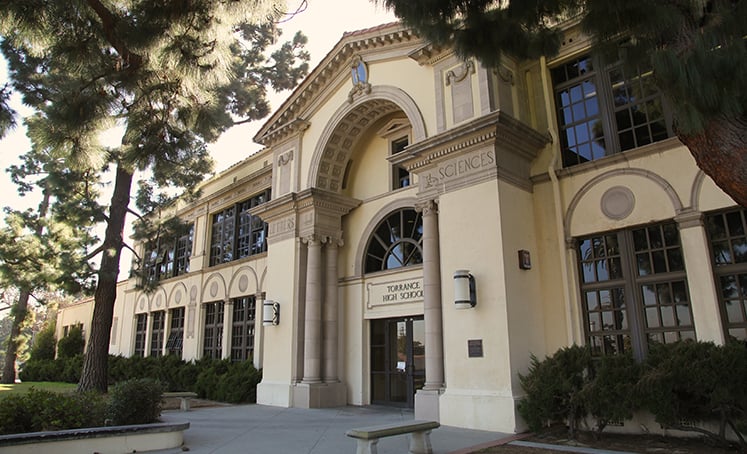 For a quick class on moviemaking scenery in Torrance, wander to Torrance High School, the fabled backdrop for much of the high school drama in Beverly Hills, 90210 and Sunnydale High in Buffy the Vampire Slayer. Its unique architecture makes this functioning high school an ideal filming location for TV series and films including Bruce, Almighty and She's All That.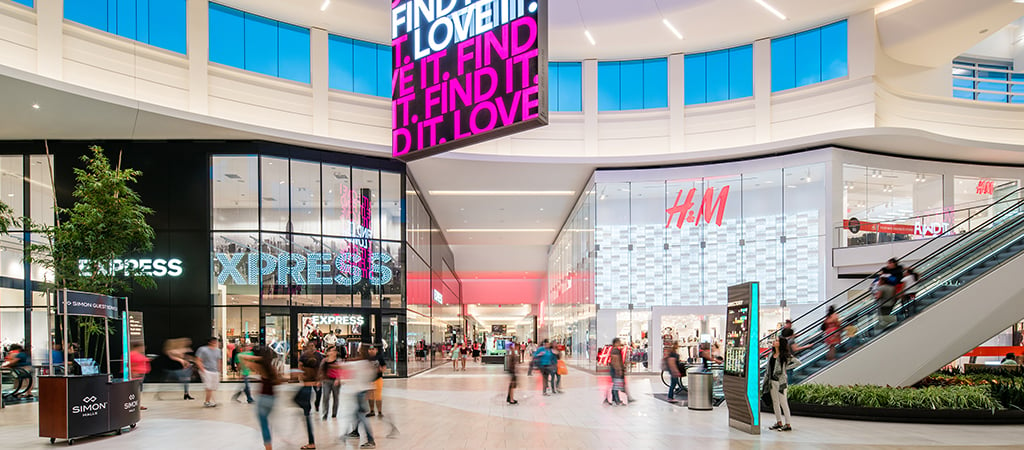 We can't think of anything more appropriate to follow Torrance High than a trip to the mall and the shooting location for Bad Santa, Jackie Brown, Valley Girl and numerous television shows such as Reno 911! With 2.5 million square feet of space at Del Amo Fashion Center the shopping options, as they might say in 1983's Valley Girl, are "totally awesome."
New movies, shows and commercials are being filmed here all the time. You can build your filming location itinerary with help from a visit to the California Welcome Center Torrance located in the Del Amo Fashion Center. Make plans with interactive kiosks, shop locally-sourced merchandise, get custom activity planning and more.
If driving is more your speed, a tour through Torrance's diverse residential areas will unveil many homes that look strangely familiar. The house used for Buffy's home on Revello Drive can be found in Torrance at 1313 Cota Avenue and say hello to the little Scarface scene where Tony meets Gina at his mother's home. It was not filmed Miami, but rather in Torrance near the junction of West 190th Street and Crenshaw Boulevard. Plus, Horrible Bosses featured a key scene in East Torrance at 20101 Hamilton Avenue. We recommend keeping in the car versus trespassing for selfies as do the current residents.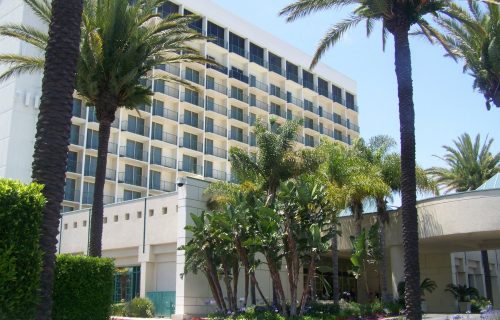 You can also take in two iconic buildings by car. Start with The DoubleTree by Hilton Torrance/South Bay, which has been a backdrop in many shows and films including the Emmy award-winning series The People v. O.J. Simpson: American Crime Story. Next, score a peek at Murdock Stadium at El Camino College, which was the featured stadium in the 2005 version of The Longest Yard.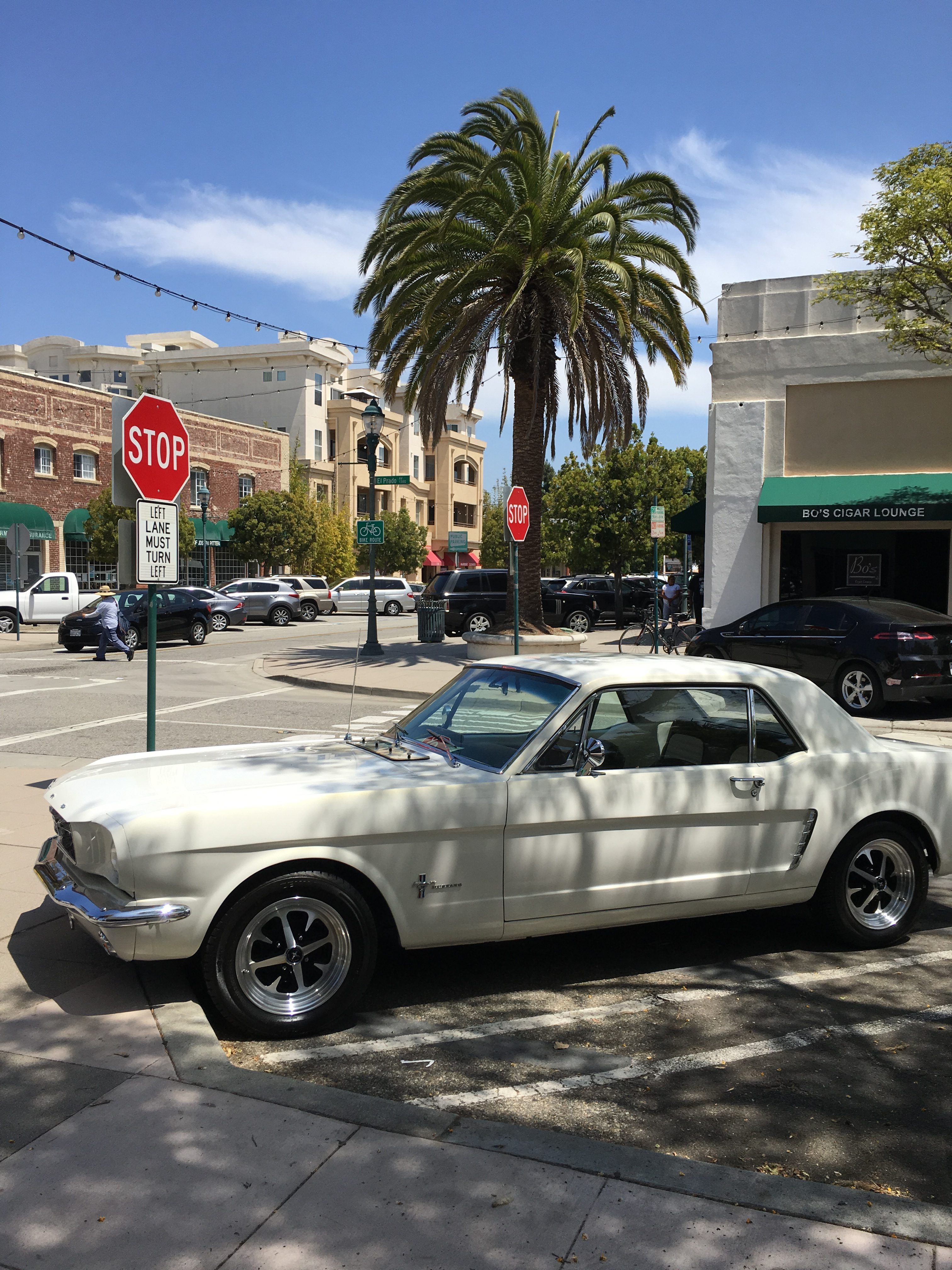 Finally, if historic sites mixed with some shoppable wandering is your thing, Historic Old Torrance is populated with historic buildings — some fully restored to their former glory. You're sure to encounter a variety of shopping, browsing and eating locations around every corner — as well as many famous settings. Old Torrance is home to multiple period films including the 1974 classic Gone in 60 Seconds and its 2000 remake.
And don't be too surprised if you spot the Chick-fil-a cows or a Geico character in town. Many television commercials are shot here ranging from AT&T to Verizon.
Torrance is so linked with film lore that some movies even start out with Torrance in its title. The Has Been, Torrance was a film that shot scenes locally and starred Ben Affleck. He played a former basketball all-star who has lost his wife and family foundation in a struggle with addiction and saw an opportunity for a rebound. If it sounds familiar, you may know it as The Way Back, the title used for its 2020 theatrical release.
There's no greater third act to a fun-filled, film fantastic getaway than a return to a relaxing hotel in Torrance. We suggest room service and a movie inspired by your recent tour. After all, Torrance is the perfect place to have a big day and relax after. End scene.
Recent movies filmed in Torrance
A Bride and a Groom (2018)
Bliss (2019)
Connect (2020)
Lorelei (2018)
Queenpins (2020)
Rollo (2018)
Space Jam 2 (2019)
The Way Back (Torrance, the Has Been) (2018)
Recent television series filmed in Torrance
American Auto (2020)
Animal Entrepreneurs (2021)
Animal Kingdom (2019)
Best Baker (2018)
Brand New Cherry Flavor (2020)
Euphoria (2019)
Flirty Dancing (2019)
Grey's Anatomy (2021)
Homecoming (2018)
House Hunters (2018
I Need My Space (2021)
Insecure (2021)
Jimmy Kimmel Live! (2021)
Lone Star (2019)
Meet the Peetes (2018)
MTV's Champs vs Stars (2018)
NCIS: LA (2019)
Pawn Stars (2018)
Silicon Valley (2019
Snowfall (2018)
Space Force (2021)
Storage Wars (2018)
SWAT (2018)
The Terminal List (2021)
Tough as Nails (2021)
Veronica Mars (2019)
Zeus (2019)
Classic movies filmed in Torrance
Bad Santa (2003)
Boogie Nights (1997)
Bruce Almighty (2003)
The Dark Knight Rises (2012)
Horrible Bosses (2011)
Interstellar (2014)
Jackie Brown (1997)
Love & Mercy (2014)
Matchstick Men (2003)
Scarface (1983)
She's All That (1999)
Valley Girl (1983)
White Heat (1949)
Classic television series filmed in Torrance
Beverly Hills, 90210 (1990-2000)
Buffy the Vampire Slayer (1997-2003)
Zeke and Luther (2009-2012)