Take a Virtual Tour of Torrance Film Locations
We know streaming services are your best friends right now. We also know you can't wait to get outside and explore! That's why we're bringing the best of Torrance to your screen. Even if you've never visited, you'll recognize the city from its hundreds of on-screen appearances. Here's a virtual tour of our favorite Torrance film locations:
To date, Torrance has been the just-right backdrop for more than 200 film and TV series episodes. Among the most recognized landmarks is Torrance High School.
Get a street view of the famous school and navigate around your screen to get flashbacks to popular TV shows like Buffy the Vampire Slayer and Beverly Hills, 90210. Other famous hits filmed here include Bruce Almighty, Not Another Teen Movie, The Hot Chick and She's All That. Built in 1917, the school has the right look and feel for the high school we wish we attended!
The hotel also served as a backdrop for scenes from Beverly Hills, 90210, as well as The People v. O.J. Simpson: American Crime Story.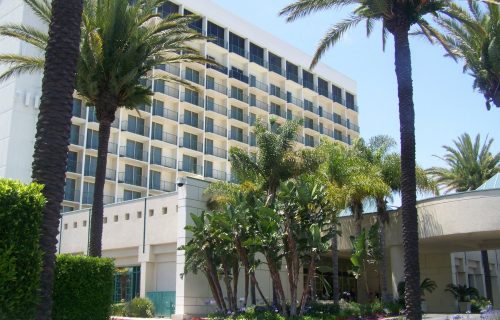 Torrance's residential areas have the quintessential California vibes – perfect for filmmakers!
A few Torrance houses that have been made famous include the homes of Buffy in Buffy the Vampire Slayer, Tony Montana in Scarface and Dirk Diggler in Boogie Nights.
Take a virtual walk to switch up your scenery and see how many houses you can spot that have been featured on screen.
Not only is this mall one of the largest shopping centers in America, but the high-end retail destination has also been a go-to for films including Bad Santa, Jackie Brown, Valley Girls and Why Him? Comedy Central's Reno 911! has also used the mall for scenes. With 2.5 million sq. ft. of space – we can see why! As you navigate through the map, you might want to start a list of stores you want to visit once you're able to shop offline again.
Sports Fields
Torrance is the birthplace of organized youth soccer in the U.S., so it's no surprise there are lots of parks and sports fields. Among them include Murdock Stadium at El Camino College, which was used as the main stadium in the 2005 remake of the 1974 film, The Longest Yard.
The Office
Torrance business parks have also been part of popular movies including Horrible Bosses where Jason Bateman threw Kevin Spacey out the window of an office building known as Comnidyne.
No stranger to film, this 1.5-mile stretch of unspoiled SoCal beach offers an uncrowded setting and spectacular views of the Palos Verdes cliffs. Revenge film crews may have made it look like the Hamptons in New York, but now you know the real story. Take a virtual beach walk and see if you recognize the landscape.
Check out our full list of movies and shows filmed in Torrance, so you can stay in the know during this binge-watching season.
Bookmark the map so you can check out these locations in person once you can travel again. Can't wait to welcome you to Torrance in the future!