Treat Yourself During the Holidays in Torrance
People from around the world visit Southern California during the holidays, with Los Angeles attracting a large share of those visitors. The city of Torrance, however, is the perfect place to make your home base during your stay, as Torrance offers close proximity to L.A., but without the hustle and bustle.   

Go ahead and plan your vacation schedule, choosing sites you want to see and things you want to do, but make sure to carve out a few days for relaxing and enjoying all that Torrance has to offer. And during the winter holidays, you'll find concerts, theatre performances, football games and more, as well as some of the best restaurants, breweries and sweet treat shops offering fantastic holiday specials. Below, we've listed some of the establishments in our Torrance Holiday Food and Beverage Guide. Enjoy! 
HOLIDAY TREATS
As sweets and desserts go, it's hard to find a time more anticipated than Christmas. Whether the goodies are homemade or bought in a shop, the treats often bring back childhood memories, or make new ones for the kids in your family, and the kids at heart. 
King's Hawaiian Bakery & Restaurant – as well as The Local Place, its more casual sister establishment – takes Christmastime goodies to a higher level. Holiday bundts, pound cakes, cookie trays, Christmas cakes and a Hawaiian-inspired fruitcake, filled with tropical fruits and macadamia nuts and soaked in brandy, are just a sample of what you'll find at both restaurants. 
To say that Torrance Bakery in Downtown Torrance has a lot of holiday treats is a huge understatement. Scrumptious holiday cupcakes, cookies, pastries, pies, specialty cakes, cookie packages and gingerbread kits are all available, at least while supplies last, so make sure to order your goodies soon. 
Del Amo Fashion Center, one of the largest shopping malls in the U.S., is home to the largest Japanese supermarket in the U.S. Mitsuwa Marketplace which offers a variety of holiday treats directly from Japan, but only for a limited time. 
The Marketplace, which is open on Christmas Day, also hosts a number of shops and restaurants, several of which feature special items during the holidays. Hamada-ya has a snow-themed Christmas shortcake and a festive bûche de Noël (yule log cake), each for $49.95. Orders must be received by Dec. 23 for pickup between Dec. 23 and Dec. 25. 
Also located at the Marketplace in Del Amo is Somisomi, a Korean-inspired dessert shop that offers soft serve ice cream in an "ah-boong" (fish-shaped waffle cone). During the holidays, Somisomi has brought back cookie butter and pecan praline flavors. While at the Marketplace, make sure to stop by J.sweets, which offers special Japanese confections in holiday tins, sure to impress your family and friends. 
HOLIDAY SPECIALS
Some of Torrance's local businesses will take part in the Shop Small Tuesday pop-up holiday marketplace from 5-7 p.m. on Dec. 20 at 21 Square Bar & Kitchen, located at the Torrance Marriott Redondo Beach. Customers who bring a toy to donate to the Torrance Fire Department's toy drive will receive a complimentary glass of champagne. On Dec. 24 and 25, 21 Square will be serving a special dinner menu beginning at 2 p.m. Prices are $62 per person. 
 Everyone loves a discount, especially when December rolls around. That's why you'll delight in getting 15% off Christmas cakes at 85°C Bakery Cafe, including cherry chocolate mousse, mango crème brulee, classic tiramisu cakes and more. 
Andre's Restaurant, located inside the Torrance DoubleTree Hotel and known for its Continental/California cuisine, is planning a special holiday menu for Christmas Day. Make your reservation soon for the 11 a.m.-1 p.m. or 2-4 p.m. brunch buffet, which is $75 for adults and $30 for children. 
Eating a good breakfast is the perfect way to start the day, so before you begin your holiday shopping, visit Bazille at the Nordstrom store in Del Amo Fashion Center. Through December, Bazille is offering a special holiday breakfast, complete with children's activities, music and a visit from Santa Claus. Tickets are $25 for adults and $15 for kids ages 3-17. And just a short drive away is Bruster's Ice Cream, where you can get free Bruster's vouchers with gift card purchases. 
In addition to a December Shiwasu-Gozen lunch special at Ise-Shima, located inside the elegant Miyako Hybrid Hotel Torrance, a New Year's Day Osechi buffet is returning. Start 2023 off with an all-you-can-eat special, including signature dishes such as kamaboko fish cakes, ozoni soup, chikuzenni and much more. Prices are $95 for adults and $40 for children ages 5-11. Seats are limited so reserve your place at the table soon. 
HOLIDAY BREWING
For the beer lover in your life, a special holiday gift box may be the perfect way to his or her heart. Absolution Brewing Company is featuring a box that includes glassware, La Mort Nore (Black IPA), The Hula (Belgian) and Su-do (Pilsner), and five randomly chosen boxes will have a free surprise gift inside for the lucky recipients.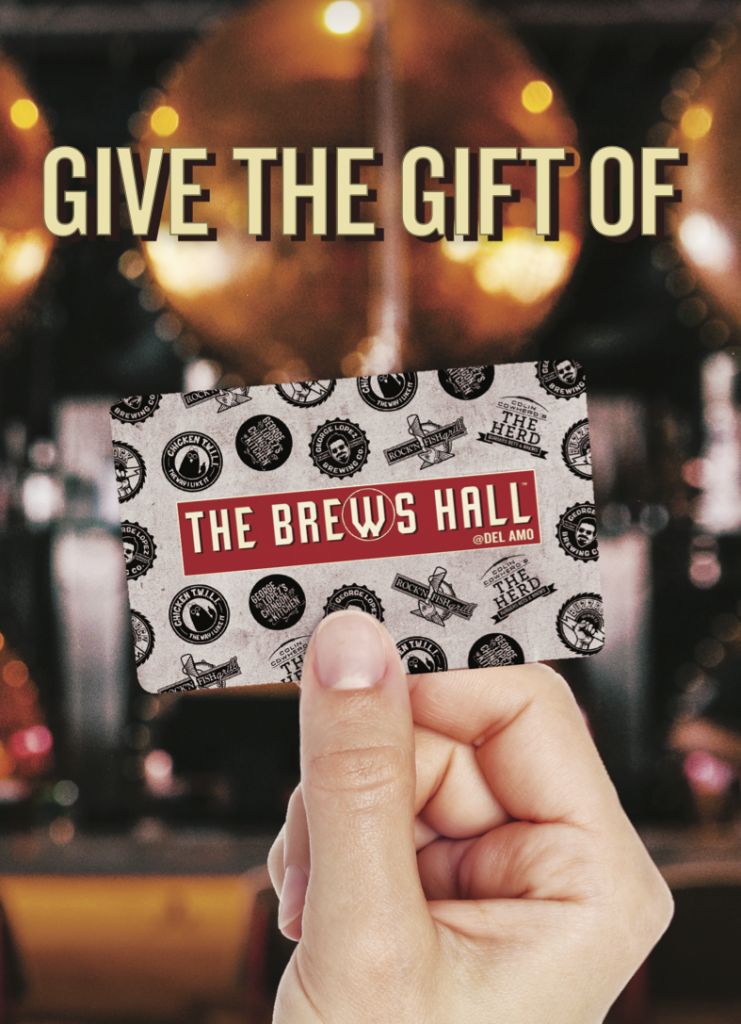 The Brews Hall at Del Amo recently released its holiday ale. The hall, comprised of two breweries and four restaurants, has something for everyone, including a holiday blowout sale with up to 75% off retail beer. So, check out the holiday ale, grab a bite and a drink and buy a gift card so others you know can experience the food and beer themselves. 
What's better than enjoying British beer and real cask ale? Doing so while watching World Cup matches! Yorkshire Square Brewery is serving up a variety of beverages – most brewed on the premises – along with English and American appetizers and main dishes, all made from scratch. Yorkshire is the place to watch the World Cup during the holiday season.  
CELEBRATE AND STAY IN TORRANCE
As you can tell from our small sample, Torrance is an excellent place to eat drink and enjoy sweets. It's also one of the best cities to do all your holiday shopping. You can find a variety of gift ideas – and fantastic restaurants to recharge for the next round of shopping – at Historic Downtown Torrance, Torrance Crossroads and Torrance Promenade.  
Del Amo Fashion Center offers a bonus besides hundreds of stores, restaurants and entertainment options, especially if you're just visiting. The California Welcome Center features a friendly staff that can provide insider tips and help plan activities while you're in town. If you're looking for lodging options, the knowledgeable representatives can point you in the right direction. There are also interactive kiosks, Torrance merchandise and even discounted tickets and free giveaways. It's definitely not too late to take a trip to Torrance for all your holiday needs and desires.