Chow Down in Torrance
Did someone say food?! Discover fabulous cuisine around every corner in Torrance. We have more than 400 unique eateries around town so you'll never leave here hungry! Choices range from everyday to elegant, local to international and from the crack of dawn to after hours. We've put together this list of our favorite restaurants around town. Bon Appétit!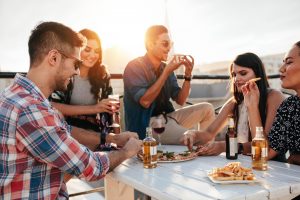 Italian: Gaetanos Italian Restaurant – Don't be upsetti, eat some spaghetti at Gaetanos! This family owned and operated restaurant is known for its pastas, pizzas, seafood and traditional dishes. We recommend their delicious spaghetti & meatballs. You will surely slurp down those delicious noodles!
Chinese: Seafood Port – Seafood Port has a large menu of seafood and delicious Chinese dishes for a great price. We're talking easily 75 choices, plus seasonal specials. Visitors rave about their salt & pepper pork chops and honey walnut shrimp. Miso happy!
Korean: Sokuri Kitchen – Control your tempura and make your way to Sokuri Kitchen! Here you can enjoy gourmet Korean cuisine and customize your bowls the way you like it. This place is known for their wide variety of meats, veggie options and flavors. You can thank us very mochi!
Mexican: Madre! – Let's taco 'bout it! Madre's is a hidden gem in Torrance and worth a visit. Their margaritas are mex-cellent! We recommend ordering their shrimp enchiladas and flan. This place guac's our world!
American: Local Kitchen – Lettuce celebrate Local Kitchen! The restaurant has some of the best American classics including salads, soup, burgers, sandwiches, pastas, tacos, steaks and fish. With more than 40 choices, you can't go wrong here.
Seafood: Ocean Market Grill – It's okay to be shellfish at Ocean Market Grill! The restaurant grills up some of the best seafood entrees around. Their Blackened Muai-muai with spicy ranch is delicious!
Sushi: Kantaro Sushi – Roll into Kantaro Sushi and you'll feel like you're having sushi in Japan. The Omakase (chef's choice) receives rave reviews and includes nigiri, sashimi, sushi, mini chariashi bowl, miso soup and ice cream. This place is soy awesome!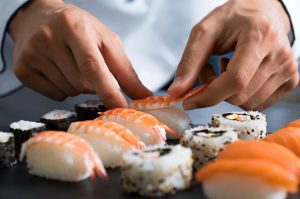 Vacation calories don't count in Torrance! These are just a few of the area's top restaurants around town that will have your mouth watering. Book your trip today and come take a bite out of Torrance!